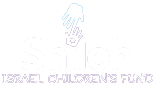 How does Israel — a country facing with war and terror daily — become one of the happiest countries in the world?
Five simple secrets from Israeli mental health professionals to increase family happiness and deal with any challenge that might come your way.
I invite you to make a place in your heart for the thousands of Israeli children living in the country's biblical heartland, children who are forced to live with the effects of brutal terror attacks and war. 
These children deserve a childhood, and for years, terrorists have been trying to take that away from them. 
In your FREE eBook, you'll meet some of the children and hear their inspiring stories of help, hope and recovery. You'll learn about the Israeli mental health professionals who helped heal them. 
And you'll get their five simple secrets that increase happiness. 
You, too, can use these tips to deal with any challenges that might come your way.
Shiloh Israel Children's Fund has created safe environments where children from families affected by terror can heal, and can thereby achieve true happiness, despite their past traumas.
Your FREE e-book contains the top strategies used by the Shiloh Israel Children's Fund, Israeli parents, teachers and therapists to tackle life's biggest challenges.