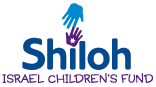 SHILOH ISRAEL CHILDREN'S FUND
DISCOVER HOPE
OUT OF TERROR
It all began when David Rubin, former mayor of Shiloh, Israel, and his son Ruby, were attacked by Islamic terrorists. Both wounded, David and his three-year-old son discovered hope out of terror. After finding the strength to overcome his own trauma, David made it his life mission to heal the trauma of Israel's terror-stricken children by establishing a healing center in Shiloh.
THE PROBLEM:
Thousands of Israeli children living in Israel's Biblical heartland suffer daily from the traumatizing effects of Islamic terror.
THE ANSWER:
SCIF provides life-changing programs that enable Israel's terror-stricken children to live happy, healthy, productive lives.
THE RESULTS:
With the help of our generous donor community, we create a brighter future for the children of Israel.

MUSIC, MOVEMENT & ART
Children who experience trauma find it difficult to express their pain. Music, movement, and art provide the children with the words that help them understand their trauma, what's hurting, how they feel, and how to recover. These alternative pathways open emotional doors, allowing the child and therapist to properly confront and heal the pain.

THERAPEUTIC PETTING ZOO
The SCIF Petting Zoo invites children to actively take part in creating a safe and friendly space where they share a sense of purpose and responsibility. The therapeutic petting zoo is used both formally and informally as an educational and recreational vehicle to heal the trauma of children traumatized by terror.

THERAPEUTIC HORSEBACK RIDING
Established after the tragic murder of 18-year-old Harel Bin-Nun, the SCIF Horse Farm offers horseback riding therapy to children traumatized by terror. Working together with certified instructors, the children gain life-changing communication and leadership skills that translate into everyday interactions with family and friends.

EDUCATIONAL PROGRAMS
SCIF also provides academic support to children traumatized by terror attacks, giving them the skills they need to succeed academically. With state-of-the-art math rooms and science labs, SCIF offers the children hands-on learning opportunities and academic programs that encourage them to take on new challenges.

PHYSICAL, OCCUPATIONAL & SPEECH THERAPY
Children traumatized by terror often struggle with developmental delays and difficulties with their gross and fine motor skills. In our Child Development Center, certified therapists work closely with school staff to mainstream the children of Shiloh and the surrounding communities into regular schools where they can successfully learn alongside other children.

YOUTH PROGRAMS
The youth group B'nei Akiva, similar to the Boy Scouts or Girl Scouts of America, receives no governmental or private funding for their programs in the communities of Shiloh. With the help of our generous donors, B'nei Akiva Shiloh instills strong Zionist values and imbues our children with a love of God, Torah, and the Land of Israel.
Donate today and help give Israeli children traumatized by terror the life-changing therapies they need and the love, care, and future they deserve.
Lorem ipsum dolor sit amet, conse ctetur adipiscing elitsed do
Lorem ipsum dolor sit amet, conse ctetur adipiscing elitsed do
Lorem ipsum dolor sit amet, conse ctetur adipiscing elitsed do