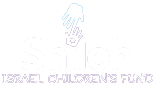 YOU WON'T BELIEVE WHAT THIS HORSE DID
Horses are incredible creatures. Yes, horses.
At the Shiloh Israel Children's Fund, we use horses to heal the trauma of Israel's terror-stricken children every day.
I wanted to share this heartwarming video about someone who's healed through our work using horses at our petting zoo.
Enjoy!
HELP US IN OUR MISSION – TO HELP CHILDREN IMPACTED BY TERROR
 The extensive treatment children need to heal from their past traumas can be expensive. Many Israeli families cannot afford the help they desperately need for their children. We need your help to give these children the therapies they need to get their childhood back.
Donate today and give children affected by terror the future they deserve.
Shiloh Israel Children's Fund P.O. Box 880408 Boca Raton, FL 33488
Shiloh Israel Children's Fund is a 501(c)3 and donations are tax deductible