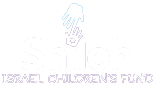 WHEN GOD TALKS TO YOU, DO YOU LISTEN?
Every person on planet earth has a purpose—a God-given mission to bring more light into the world.
When we're supposed to go on that mission and take that life-altering turn is not always clear.
There are only a few times in our lives when God sends us that sign to embark on that world-changing mission, and the question is: when God does send us that sign, do we listen?
And that's exactly where I was. After weeks of looking for the right resources to help my son, who had just survived a traumatic terror attack, I realized that our difficulty in finding the proper treatment for him was symptomatic of a bigger problem.
I decided to take action. At that moment, I had my vision to start the Shiloh Israel Children's Fund. Never again would a child in Israel be traumatized by the effects of a terror attack. Not on my watch.
Today, at our centers, there are HUNDREDS—yes, hundreds—of children suffering from the trauma of terror. Running a center that treats so many children with cutting-edge therapies is incredibly expensive.
I need your help. The Shiloh Israel Children's Fund needs your support to make what we do every day possible.
To donate, and help Israeli children suffering from terror, click here.
Thank you for your support,
David Rubin
——————————
HELP US IN OUR MISSION – TO HELP CHILDREN IMPACTED BY TERROR
 The extensive treatment children need to heal from their past traumas can be expensive. Many Israeli families cannot afford the help they desperately need for their children. We need your help to give these children the therapies they need to get their childhood back.
Donate today and give children affected by terror the future they deserve.
Shiloh Israel Children's Fund P.O. Box 880408 Boca Raton, FL 33488
Shiloh Israel Children's Fund is a 501(c)3 and donations are tax deductible