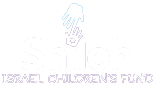 HOW I SURVIVED THE NIGHT A TERRORIST SHOT MY CAR (AND WHAT HAPPENED TO MY SON)
I had been shot in the leg, and my son… shot in the head.
Miraculously, my boy survived. The bullet had missed his brain stem by one millimeter.
That's where we left off? Right?
The days that followed the attack were not easy.
We had weeks of treatment in the hospital together with two major operations.
We soon discovered that my son desperately needed psychological post-trauma therapy to deal with the effects of the attack. Unfortunately, the resources available to help children affected by terror weren't abundant.
After weeks of looking for the right resources to help my son, I realized that our difficulty in finding the proper treatment for him was symptomatic of a bigger problem.
We Israelis were so focused on the physical wounds that we neglected the deep psychological traumas from the frequent terror attacks. That's when I decided to take action. At that moment, I had my vision to start the Shiloh Israel Children's Fund.
Traumatic situations are painful, but they always happen for a good reason—even if we can't see that right away.
I suddenly understood that the mission God had given me was to heal the trauma of the children affected by terror and to rebuild the Biblical heartland of Israel through these children.
Our story is not over yet—it's just beginning—but we'll get to that in the next email.
Supporter of Israel, in the meantime, if you care for the children of Israel, if you care about creating a brighter future in which the children of Israel don't suffer, please join us on our mission.
——————————
HELP US IN OUR MISSION – TO HELP CHILDREN IMPACTED BY TERROR
 The extensive treatment children need to heal from their past traumas can be expensive. Many Israeli families cannot afford the help they desperately need for their children. We need your help to give these children the therapies they need to get their childhood back.
Donate today and give children affected by terror the future they deserve.
Shiloh Israel Children's Fund P.O. Box 880408 Boca Raton, FL 33488
Shiloh Israel Children's Fund is a 501(c)3 and donations are tax deductible